So yeah, last weekend there was the Japan Weekend con in Barcelona. Saturday tickets were sold out quickly and we hadn't been able to get ours, but thanks to Alek (Fuko's friend) we were able to buy them.
SATURDAY
We woke up at 8.
We put our cosplays on.
I lost one of my elvish ears.
After one hour looking for the lost ear, we went to the con. When we arrived, we went for a walk and Fuko bought a Love Live! energy drink -which happened to be surprisingly useful later- and we met some friends (Patis, Miki, Aya...).
I don't know why, I hated how I looked that day. The make-up didn't end up looking how I expected, the wig was messed up and all the photos turned out horrible. I've already seen some photos people took me and omg, I look ugly as fuck and so done with the world. Also, I brought a Silmaril to the con so I could have some photos holding it (it was a Fluorite ball, expensive). So a random photographer came to take us some photos; after that, he asked me to borrow it and, when I gave it to him, he moved his hand out and
the Silmaril
fell and got broken
into tiny pieces
.
Fortunately, the photographer was so nice that he decided to give me the money I paid for the Silmaril back, so it's fine. But seeing my dear gem dying so tragically made me sad.
After having dinner with some friends, we went to see the cosplay contest with Aya, Patis, Sora and Kai. When a Miku Hatsune got on the stage to dance a Vocaloid song we all expected something typical like "World is mine". It wasn't that one.
Next to that one, a Len Kagamine dressed with the Senbonzakura outfit got on the stage carrying a leak. He started dancing Levan Polkka. Then, the music stopped and another song started playing.
Following this performance, it was PriPara's turn. A Sophie Houjo got on the stage. Since Fuko is a huge PriPara fan, she got very excited. We all thought a song from PriPara would start playing. We were wrong.
Luka Luka Night Fever
Literally all of us
We had great expectations for this day because we were going to meet more friends who didn't get tickets for Saturday. Also, Eva was coming with us and she was going to vlog the whole day. When she was finished doing her make-up, she got her camera and started vlogging...until 1 minute later, when the camera ran out of battery.
Eva: Yeah, the camera is new and I didn't charge its battery before.
It wasn't a big deal since Fuko has a portable charger and we could charge the camera's battery during our journey towards the con.
We arrived at the con and while Eva and Fuko were getting ready at the bathroom, I was waiting for my Cornelia (Patis).
Since our friend Aya was going to participate at the karaoke contest, we sat in front of the stage for a while. As we expected, she won the contest! (She really sings beautifully)
After that, we watched Kiseki Idols' (a Love Live! cosplay group) performance. Fuko and Alek were cosplaying Choromatsu and Osomatsu from Osomatsu-san, so they just stayed in front to the stage yelling and dancing.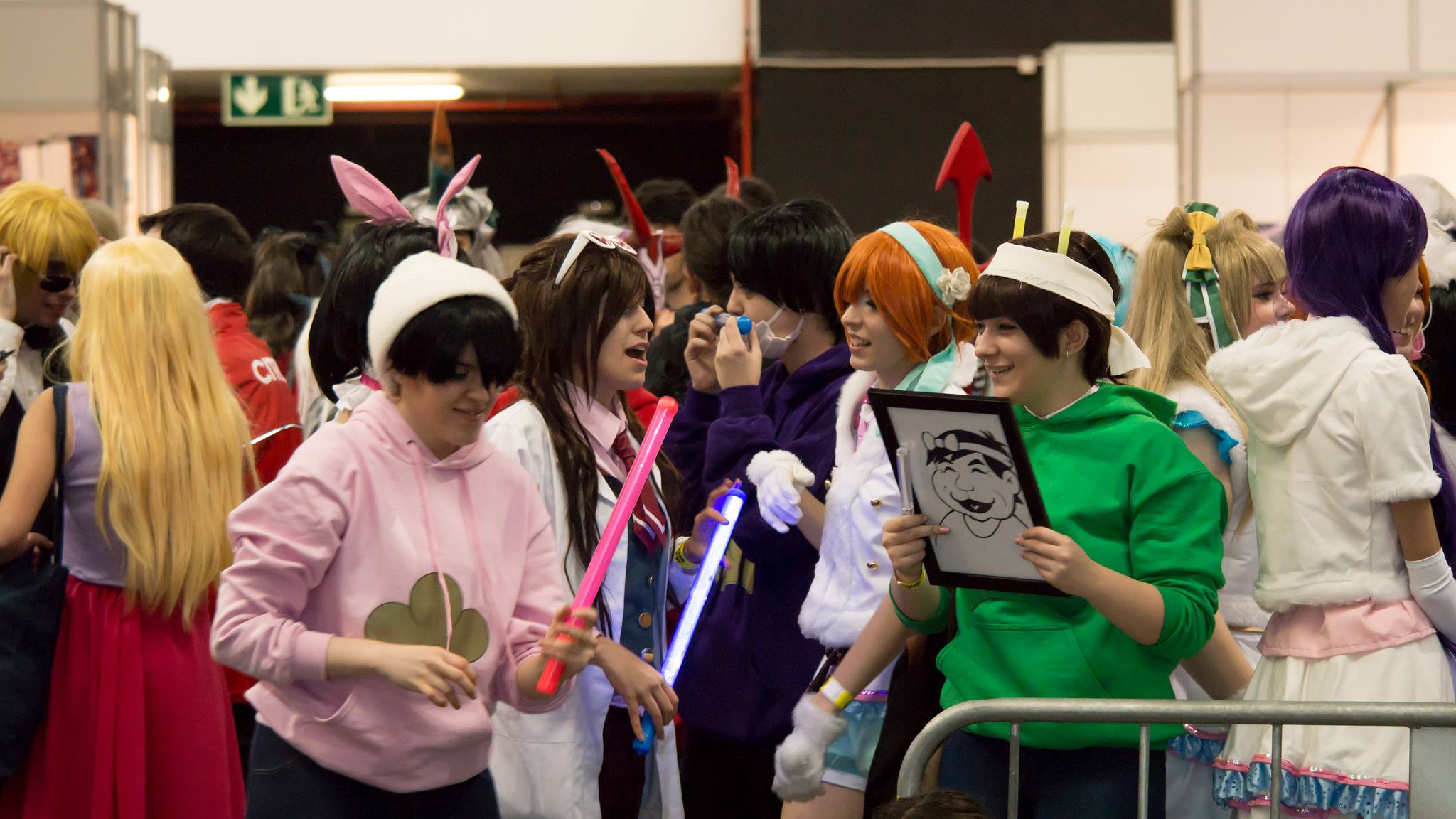 After that, I went to Burger King to have lunch with Fuko, Aya, Jud, Eva, Cris and Patis at 5 pm. We left early because Fuko had to study and we had nothing to do at the con anymore.
Here are some photos I edited from the con
↓